WELCOME, APHA MEMBERS!
As the nation's leading professional association promoting and protecting the health of communities, APHA collaborates with the Milken Institute School of Public Health at the George Washington University to bring APHA members an exclusive scholarship opportunity for the top-tier MPH program.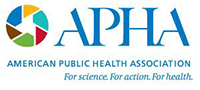 Delivered via an innovative online format, MPH@GW enables you to earn your Master of Public Health (MPH) while continuing to honor your personal and professional commitments. Taught by renowned GW faculty who are industry experts, MPH@GW is designed to prepare the next generation of public health leaders to improve the health of communities in the United States and around the world.
APHA members are eligible to receive a $2,500 scholarship upon enrollment in the MPH@GW program. Scholarship eligibility is restricted to new students only who have not been previously enrolled in the program.
Not an APHA member? Please visit the APHA Membership page for information.
Why MPH@GW
MPH@GW is a Master of Public Health from the prestigious Milken Institute School of Public Health at the George Washington University.
Become a public health leader with this innovative, online program by:
Learning from world-renowned faculty who bring their vast industry experience to the classroom.
Gaining critical skills in a customized field experience designed to enhance your didactic learning.
Building a global network through a cutting-edge, interactive, collaborative learning platform.
MPH@GW is fully accredited by the Council on Education for Public Health.
Quality and Education
The Milken Institute School of Public Health at the George Washington University strives to positively impact the health of populations around the globe. MPH@GW students complete the same rigorous curriculum and are held to the same selective admissions criteria as the on-campus MPH program.
Our faculty members are leading experts in the public health field and are committed to building strong communities through outreach, service, teaching, training and research. Along with a commitment to excellence in scholarship, MPH@GW faculty members have been recognized for strengthening access to care and empowering underserved populations.
Online Learning
MPH@GW is delivered via an advanced online learning platform that allows you to complete your coursework from wherever you are in the world.
As an MPH@GW student you will:
Attend live, face-to-face online classes with a student-to-faculty ratio of approximately 15:1.
Access high quality, faculty-designed video coursework 24/7.
Reinforce classroom learning by reviewing recorded sessions at anytime.
Communicate with faculty members and classmates via discussion boards.
Build a strong network of professional colleagues around the world.
Receive white-glove student support services that include academic advising and technical support.